Historical Summary of the LAFD Fire Hogs
By Raul Miranda – One of the Founding Members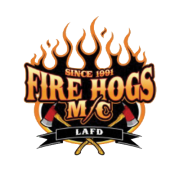 The history of the LAFD Fire Hogs Motorcycle Club began back in about the mid to late1980's. The idea was somewhat new, since at the time most firemen in L.A. did not own American motorcycles. To keep it in perspective, the American street bike craze had not even yet begun. The Harley-Davidson ® Company had recently been bought by its workers (from AMF); to keep it going by redesigning and building Harley's focusing on quality versus quantity.  Their efforts proved successful in 1986 when Harley-Davidson® became a publicly traded company.
One of the first LAFD Harley riders of this era was Joe Teijeira.  At the time Joe was an Apparatus Operator driving hook-and-ladder fire trucks in South Central L.A.  Back then, "Shovelheads" were the Harley's of choice.  Joe rallied interested firemen to ride for good times and camaraderie. Early riders included Ted Kalnas, Randy Laur, Ray Cuevas, Joe Avalos, Tony Varela, Jay Freeman, Raul Miranda, Mark Khitikian, Bobby Reyes, Julio Maldonado, Dane Jackson, and a few others.  This was the inception of the LAFD Fire Hogs Motorcycle Club – a group of Harley ridin' L.A. City Firemen.
There were no patches, logos, dues, or club rules, and communication was "word of mouth" by land lines.  Camaraderie was the goal for riders as BBQ's and Poker Runs became popular events.  As the informal club began to take shape in the early 1990's, many fun rides were organized up and down the coast.  Eventually the Club was founded in March of 1991, and a FIRE HOGS roster of members was formed.  Charity rides were started to benefit the Los Angeles Firemen's Relief Association – Widows, Orphans, & Disabled Firefighters Fund.
For the next ten years technology produced much better bike design, thus increasing the popularity of Harleys.  More and more LAFD members would begin riding with the Club.  As the Club grew through the late 1990's there were many ideas for the group.  Several logos for shirts and patches originated. Newsletters and basic club guidelines were presented.  Unofficial motorcycle rides expanded in distance and size.  All along, our charity rides raised more funds for WODFF.  The Fire Hogs membership was growing and becoming more organized through improvements in communication technology.
Until the beginning of the 21st century, the Fire Hogs remained an informal group mainly arranged by word of mouth and few emails.  Though the thought to become a structured organization was desired and being formulated, it did not occur until the Spring of 2001.
On March 28, 2001, the LAFD Fire Hogs became established as a formalized organization.  A Fire Hogs meeting was held in the LAFRA conference room.  With leadership from the core group of members, and the initiative of newer riders, a Board of Officers was elected by those in attendance.  It was determined that organizational By-laws would be established to address membership, dues, etc.  An official Club patch logo would also be designed.  The first "Interim" Board members elected at that meeting were:
President……………….John O'Connor
South Vice President….Joe Teijeira
North Vice Presidents…Mark Akahoshi/Raul Miranda
Treasurer………………..Mike Kammerer
Secretary………………..Al Angulo
Sgt. at Arms…………….Pete Goff
Sgt. at Arms…………….Wayne Havron
The original club "colors" patch design was submitted by LAFD member Chris Shaw. This three piece patch set was worn unofficially, until revised to the current two piece design now worn by all members.
Events – Hogs Breath BBQ, Fallen Heroes Memorial Ride.  In 2001, the Fire Hogs organized and lead a delegation of LAFD members to New York City to honor FDNY shortly after 9/11.  In 2002, as a tribute to Firefighters, Harley-Davidson® introduced the red "Firefighter Special Edition" model owned and proudly ridden by many Fire Hog members.
Through the years, officers changed as the club evolved – Mike Kammerer became president, Dusty Clark was South VP, Jay Freeman was North VP.  The Club sponsored large-scale charity fund raising events.  New riders joined as the Fire Hogs membership became more dynamic.
In 2012 the club began a transformation to become more active and organized with a new Board.  The membership elected the following officers:
President……………….Jack Wise
Vice President…………Ted Kalnas
South Vice President….Taylor Gaskins
North Vice President…..Raul Miranda
Treasurer………………..Craig Yamashiro
Scribe……………………Lewis Smith
Sgt. at Arms…………….Rudy Santiago
Sgt. at Arms…………….Pete Goff
A Club Charter was established, and By-laws were revised.  As the Club continued to move
in a more positive direction, it was agreed to establish a National Charter to allow for the future expansion of Fire Hogs Chapters from other fire departments.  New leadership has inspired membership growth, and increased participation in club activities.  The Fire Hogs meet quarterly, organize Club rides, sponsor charity fundraising events, and attend community functions.  The FIRE HOGS M/C is a Family (Neutral) Club, which claims no territory, and who rides in respect of all other Clubs. They are a non-profit organization that hosts and participates in multiple events each year.  Their goal is to promote a brotherhood amongst fellow firefighters and develop relationships with the communities they serve.
In September of 2013, the first new Fire Hogs Chapter Club was formed by L.A.Co.F.D. members, lead by president Al Bustillos.  The Fire Hogs currently have 5- Chapters Nation-wide.
To date the LAFD Fire Hogs have raised and donated over $500,000 dollars to L.A.F.R.A. Widows Orphans and Disabled Firefighters Fund.  This in 2016, the Club celebrated it's 25th year anniversary since it was founded in 1991. New logos have been developed.  The Fire Hogs "Colors" patch sets will remain unchanged.